MistralGin, the first dry gin rosé from Provence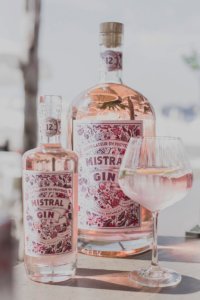 By blending together the tradition of gin with herbs of Provence, we are proud to elaborate the first rosé dry gin in Provence as a summary of our region with a premium gin. MistralGin is a sophisticated craft gin which will surprise you with its fresh, distinctive flavours, fascinate you with its subtle rosé colour and transport you to a land bathed in sunshine.
We are happy to share with you all details about our botanicals and the typical one from Provence such as thyme, basil, fennel, mint, eucalyptus and grapefruit.
We convey all the richness of Provence, its terroirs and above all, its Art-de-Vivre. This provencal lifestyle is define by taking time to enjoy life under the sun from South of France with the sound of crickets and cicadas.
The aromatic of MistralGin enable support all the sharing moments during many occasions by tasting it on its own or in a cocktail.
Tasting notes :
This unique rosé dry gin has a great balance between the gin typical power, the Provençal herbs (thyme, basil) and the citrus, mint, and aniseed notes. The 12 botanicals eventually blend in a very smooth, refined gin with an extraordinary refreshing power.
Discover all our MistralGin cocktail recipes.
MistralGin, several times awarded